War, death, cataclysm like this, America,
Take deep to thy proud prosperous heart.
E'en as I chant, lo! out of death, and out of ooze and slime,
The blossoms rapidly blooming, sympathy, help, love,
From West and East, from South and North and over sea,
Its hot-spurr'd hearts and hands humanity to human aid moves on;
And from within a thought and lesson yet.
Thou ever-darting Globe! through Space and Air!
Thou waters that encompass us!
Thou that in all the life and death of us, in action or in sleep!
Thou laws invisible that permeate them and all,
Thou that in all, and over all, and through and under all, incessant!
Holding Humanity as in thy open hand, as some ephemeral toy,
How ill to e'er forget thee!
For I too have forgotten,
(Wrapt in these little potencies of progress, politics, culture,

wealth, inventions, civilization,)
Have lost my recognition of your silent ever-swaying power,

ye mighty, elemental throes,
In which and upon which we float, and every one of us is buoy'd
Walt Whitman 1

Presentiment is that long shadow on the lawn
Indicative that suns go down;
The notice to the startled grass
That darkness is about to pass.
Emily Dickinson 3


arely do the voices representing such diverse religions, philosophies, metaphysical systems, and the social and physical sciences -- from a very wide range of disciplines, combine to distill anything close to a unanimous voice . . . On anything . . . If you listen carefully, however, you can find the "message" which is the first theme of this chapter "visible everywhere." Its haunting message even seeks us out in the airy thoughts of poets -- clearly perceptible to those who are ready to listen and find meaning in the growing body of synchronicities.

We are -- to put this "message" in its simplest, least controversial turn of phrase -- coming to "the end of an age." To follow through with a consistent reference to a central theme of this book and one of our "Unifying Principles," it is the end of our journey into the experience of extreme exosomaticity. It is time to bring about an equilibrium -- one that I believe, with planning, will lead to the development of Meditopia.

For what the age that follows looks like will depend largely on the force of thought of those bold thinkers who start their work now. And like all great and noble work of any future consequence, the cornerstones of society in any given age were firmly laid by the thinkers in the previous one. Ideas have consequences -- when combined with emotion and purpose, they generate other thoughtful patterns, and these thought forces generate the "habits of nature" -- Sheldrake's morphogenetic fields -- that influence what we call reality.

Emphasis should be placed on the here and now -- "the thinking of today that creates the fate and destiny of tomorrow." Those who have, instead, placed their attention on uncovering the "when" or the "how" have most often found themselves spending years spinning in unending cycles of intellectual inquiry -- like a cat chasing his tail. One example that comes to mind is that of author, John White, the editor of "Future Science." John wrote a book in 1980 called
Pole Shift
4
, which was updated by A.R.E. Press in Virginia Beach, Virginia ten years later. (For those who don't know, A.R.E. is the organization left by the famous psychic healer, Edgar Cayce -- who also left us predictions of cataclymic earth changes that, at least at it pertains to the "when," have proved mysteriously and categorically wrong. I say 'mysteriously,' because, by contrast, Cayce's work in the area of psychic diagnosis and healing was astonishing in its prescience.) You can tell by the structure of the book that what motivated the writer were the sheer magnitude of synchronicities on those who, like Cayce, foresaw horrific earth changes in our future -- our
near
future. He finds common ground in the scientific analyses of Hugh Auchincloss Brown, Charles Hapgood, Immanual Velikovsky, Peter Warlow, and others; then he superimposes their thoughts on the "visions" of respected "psychics," not only Cayce, but several other notables; and then he moves on and superimposes these inputs with "The Great Purification" foreseen by various Native American prophets, inescapable Biblical references, Nostradamus, Theosophy, and others. Though details vary, a common vision emerges. Apparently enough of one to justify the publishing of a book.

When it became apparent that despite a large body of common language and vision and prognostication, the supposed events were simply not going to happen within a time frame that most had passionately "felt" was so imminent, White, for lack of a better phrase, "threw in the towel," falling back on his initial caveat, that "I neither believed nor disbelieved in pole shifts. I felt that a strong case for pole shifts could be made, but I recognized that presenting the case is not the same as proving the case . . . " Indeed.
5
.


White bookends his search by referencing John Perry's
The Heart of History
, who, finding the same volume of synchronicity on similar predicted, cataclysmal events argues that these predictions can be found throughout history, particularly on sensitive persons who lived in cultures experiencing a deep period of crisis. Quoting Perry, he notes, "the horrific vision of world destruction is part and parcel of the mythic imagery of raid culture change and world views in transition . . . Beholding the world coming to its end amid storm, earthquake, famine, and fire we have found to be a typical experience of a prophet whose psyche is registering the emotional impact of the end of an era." Dr. Kenneth Ring, of NDE research notariety, chimes in agreement with Perry (and White) that "during times of cultural crisis . . . they bring a messianic message of the need for cultural renewal."
6
White concludes his "ten years after" Epilogue with a homily that can best be summed up by saying, "Live for today. Don't fear for tomorrow."
7

That would seem to put the matter to rest. Or at least it gives us a strong confirmation (from at least one perspective) that Jesus of Nazareth had special insights in telling his disciples, "you knoweth not the hour."

But this is a serious issue. So let's not try to be cute.

The "voices" are getting more numerous, and they are coming louder and with more poignant detail from the scientific community. It is time to do more superimpositions and remember, as my mother told me growing up, "God's delay is not God's denial" -- which applies to both good and bad.

A serious hurricane is headed our way -- one much stronger and altering in its effects than anything coming from the Gulf Coast . . .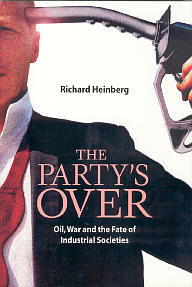 The salient factors that are sowing the most obvious seeds that will undue our current status quo are tied to resources. To separate current humans of the industrial age, those with oversized resource demands and hugely entropic environmental impact, from those who would live sensibly and treat natural resources as capital instead of income, Catton has a term for us:
Homo colossus
.
8
. Any attempt to construct a linear regression model that showed where we are headed, factoring in our rapid depletion of oil, precious metals, fresh water, biodiverse rainforest and other ecological treasures
14
, the rise in competition and militarism that is inherent among hungry industrial nations living in a world of such depleting resources, will give you a rapidly approaching end point. To my compatriots in the U.S. who have been seduced into thinking that our "super superpower" is beyond any mention of competition or militaristic comparison, I will gently remind you that our Americentric media does not report all things. [Let's take one example out of many: How many Americans know that Pakistan, a supposed poor little third world country,
has two nuclear attack submarines
-- and is building a third -- that meets or exceeds many of the capabilities of our best Los Angeles-class attack subs? For what good reason would Pakistan need nuclear attack submarines that can stay underwater for 60 days, beyond the best detection capabilities of the U.S. Navy, poised with 24 nuclear missiles?
10
Of course, some question the reason for
anyone
having such a machine -- us or anybody else. "It's an unthinkable machine. What mind would conceive of such a machine? What human justification could there ever be for its existence? What would be the meaning or daring to use it? Why would you have it?"
11
]

A thoughtful mind will realize that if you have any sensibility to the idea that we live in a universe where you "reap what you sow," the linear regression we have created, from beginning to end, is of our own making. I saw this in the opening lines of Derrick Jensen's interview with Ramsey Clark
12
. (Something I truly believe every American should read in its entirety.)

Jensen opens by quoting a line from the U.S. Defense Planning Guide of 1992: "The first objective [of U.S. foreign policy] is to prevent the reemergence of a new rival . . . with the U.S. convincing potential competitors that they need not aspire to a greater goal or a more aggressive posture to defend their legitimate interests."

Ramsey responded, "Our foreign policy has been a disaster since long before that Planning Guide, and for a lot longer than we want to believe. We can go all the way back to the arrogance of the Monroe Doctrine, when the United States said, 'This hemisphere is ours,' ignoring all the other people who lived here, too. For a part of this century there were some restraints on our ability for arbitrary action -- what you might call the inhibitions of the Cold War -- but with the collapse of the Soviet Union we've had a headier sense of what we could do and get away with. Our overriding purpose has been from the beginning -- and continues to be -- world domination, that is, to build and maintain the capacity to coerce everybody else on the planet, nonviolently if possible, violently if necessary -- and once in a while just for kicks. But the purpose of our foreign policy is not to be ringmaster just for the sake of putting the rest of the world through hoops. The purpose is to dominate for the exploitation of resources. And insofar as anyone gets in the way of our domination, they must be eliminated, or at the very least shown the error of their ways."
13

For many Americans, this foreign policy posture is not a problem. After all, U.S. citizens have been the beneficiaries of this policy. Perhaps then there
is
an element of karma in the fact that this same posture has worked in reverse at the U.S. Food & Drug Administration. I maintain that the FDA is guilty of crimes against humanity -- at home and abroad -- that in terms of sheer number of humans involved, duration, finances involved, indeed, on every level but the cinematographic potentialities -- are more aggregious than the crimes of the Third Reich, Stalin, Pol Pot, and the murderous actions of every other tyranical head of state of the 20th century,
combined
.

I will leave it for others to compute just how many of those who died of cancer from the 1860's to the present were easily curable -- with readily obtainable cures fully suppressed by organized medicine. (Hint: the vast majority). I will leave it for more astute minds to evaluate, or to try and quantify, just what it means to have, on our own soil, clear and indisputable evidence (indisputable to anyone who can examine the facts without political or financial influence) that as Americans, we have among our own people -- even as I write these words -- those who are guilty of continuing to carry out a Holocaust, the greatest in history, for pure financial gain.

In brief, our U.S. Medical Policy has mirrored our U.S. Foreign Policy, and we stood by ignorant and none the wiser. In our gluttony, it never dawned on us that the misery we were bringing to so many other millions of people might have been working in our midst,
on us
, in insideous ways we were not recognizing. If you accept that there
is
a God, or perhaps just some kind of superior intelligence --- if you accept that the greatest commandment is "to love your neighbor as yourself," which, even from a cynic's point of view, could still be viewed as a humanistic adaptation of Newton's Third Law of Motion, turned self-serving admonition --- and if you examine the record as I have and come to realize that no society or culture in the history of the world could have possibly found as many innumerable ways to violate this commandment, by any reasonable qualitative or quantitative measure, then you are left with a sense of the impending.

We aren't going to make it . . . but it's more important at this stage to see beyond it, to begin building the constructs for what will emerge --
after
the demise of the Matrix.

No one, and certainly that includes myself, "knoweth the hour." Considering the permutations and combinations of possible outcomes, one can only speculate if our current path is such that the "trigger event(s)" that will bring down the Matrix will be political, economic, military, ecological, extraterrestrial (i.e. comet, asteroid, etc.), or some combination thereof. But there is that presentiment -- seen and felt everywhere -- which, as evident as the Matrix itself, is a "splinter in your mind . . . driving you mad."

One of most fundamental properties of life is that it is regenerative. You cannot expect a vibrant regrowth without a good pruning. We can lament the 'thinning of the herd,' or we can begin to celebrate the possibilities for those who will carry on after us. Our lives are short. Our contributions minor. No one is going to make it out of here alive. So why not put forth our best to help now in the reconstruction effort?

We need to begin networking now. We need to share those medical approaches that work -- in the light of the inherent power of endosomatic solutions. For those who fear the FDA and its sister terrorist organizations, always remember: they can't tape
and
analyze every phone call, every conversation in the park . . . they can't x-ray, copy, and study every letter and Fedex document; they can't read your mind and create a manila folder to start monitoring you and your family upon finding out that you've been checking out books on herbalism from the local library. Let's be reasonable.

In your work to help create a Meditopia, remember that the very forces of Nature are on your side. We can't go in any other direction . . . or as Dr. Hans C. Moolenburgh has noted, "We have reached a point as far away from God as possible . . . at a certain moment when, spiritually speaking, things look hopeless, a Voice commands: 'Enough!'"
15

Seek out and associate with like-minded individuals. Help in the effort to raise consciousness about the issues discussed in this book. Remember the wisdom of those who founded the Iroquois Confederacy; cleave yourself to a 'clan' of those -- no matter where they are in the world -- who have knowledge of endosomatic solutions to share with you. They are your brothers and sisters.

Dr. Moolenburgh recently told me in a letter that as you consider the importance of meaningful coincidences, the Jungian 'synchronicities' you hear me talk about so much, you will find that they begin to seek
you
out. You find support from hidden and unexpected sources. As you focus your thoughts and attention on what is important and stop focussing on (and feeding) the forces of evil that work to prevent it, you find, as did Thoreau, unexpected aid at an "uncommon hour." When you focus on fear, you feed it and give your adversaries nourishment; when you focus on endosomatic solutions, you not only deprive your enemies their due, but you add your voice in unseen ways to a movement of goodness over which the Matrix has no defense.

This is where your journey begins . . . and in many respects this is where it will end. This is the "grand turn" that completes the Brahmic cycle of "maya." This is the essence of the completion of the Mayan calendar in 2012, not "the end of the world, but its moment of true creation."
16

This is where
Meditopia
begins.